There is a lot of hype about online marketing at the moment. If you pay attention, you will realize that at any given time, someone will always be talking about online marketing with respect to a field that they understand best.
There are different categories of online marketing, and, believe it or not, you can master all of them or some of them.
Online marketing can be classified into 6 different groups. As you delve deeper into these categories, you might come across some smaller sub-groups, and some might even intertwine.
Some of these might share similarities, and that is why understanding one gives you a peek into understanding some of the others. Here are the different types of online marketing: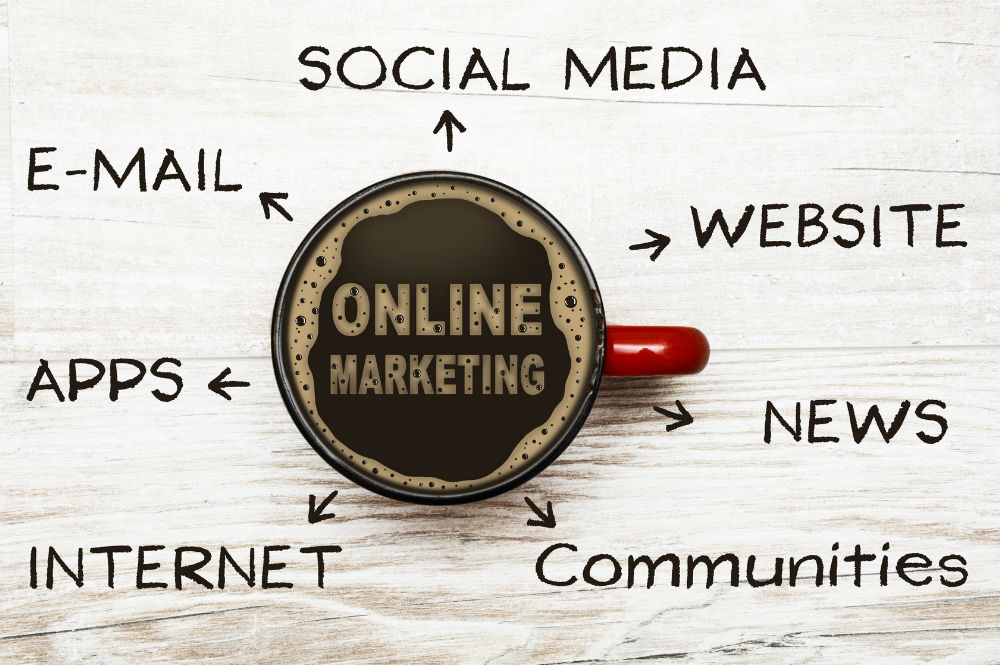 Affiliate Marketing
This is all about commissions. Through affiliate marketing, you promote a company or another person's products or business. If the people you refer make a sale, there is a percentage of their purchase price that you earn.
More often you can do this through your blog or website, especially for products that you like. There are companies that will also approach you to do this for them, and pay you handsomely.
Search Engine Marketing
Through search engine marketing, you will be buying ads on different search engines, in the hope that you can generate enough traffic. One of the most popular paid search platforms that a lot of marketers use online is Google AdWords, and perhaps Bing Ads.
Other than these heavyweights, there are some other platforms and advertising alternatives that you can use, especially on social media, like pay per click (PPC).
Basically, these two are techniques that are used on the major search engines. The search engines have a certain value they charge the advertisers whenever the ads are clicked.
What works well here is that as a website owner, you will be able to get your message out to the right target customers.
Social Media Marketing
Most people already know about, understand and appreciate the impact that social media has in their lives. Knowledge of social media marketing, however, is relatively limited.
This is a good way for businesses to enhance the identity of their brand while improving customer services.
It is also one of the ways through which the businesses are able to collect feedback from the customers. Through social media, companies have been able to come closer to their customers and turn this communication into a profitable venture.
As a matter of fact, companies that have embraced social media today are in a far much better position in terms of interacting with their clients.
Content Marketing
Have you ever heard the phrase "content is king"? If you have not, then you probably have not been around the internet long enough.
This is a strategic method where the website owner comes up with information that is relevant, useful and consistent for their audience. The aim here is to enlighten the audience, give them information whose content adds value to their lives or meets their needs, answers their questions and so forth.
By maintaining such an audience, it is easy to create a good customer action from them, and even turn your readership into a good market. Content marketing basically is about communicating and sharing ideas with your audience, without necessarily making a sale.
It is about education, and the audience, on the other hand, stays loyal. Irrespective of the type of marketing that you engage in, always make sure that you have time for content marketing clients than those that have not.
Search Engine Optimization
This is a process where you get traffic from organic and free search engine results. This is supposed to be natural, in the sense that you get traffic from people searching for something.
There are individuals who have in the past tried to circumvent this and come up with underhand techniques of getting traffic, and in the long run, this affects their ratings online because they are punished by search engines.
To succeed in search engine optimization, you need to have a good understanding of how search engines operate, how websites are ranked, and from there you will be able to increase the chances of ranking your websites properly for searches that are relevant.
Since search engines advance and change over time, tactics used must also be responsive to these changes.
Email Marketing
Most modern businesses have invested significantly into email marketing. This is a good way not just for making money, but also for generating sales, keeping in touch with the customers and educating them on different features of the products the company deals in.
When you look at email marketing, a lot of companies use this as a means of launching new products. The loyal customers usually get firsthand information of any product that the company plans on launching in the near future.
They are also given a priority should limited-offer products be available. Through email marketing, companies can also make use of the direct contact with their clients to enhance their appeal.
Many companies today include feedback channels and ratings, from where they get the clients to rate the services they received or provide feedback, and then someone acts on the feedback accordingly.
The key here is to make the emails as professional as possible, and not to appear to be imposing on the client. Simplicity does carry the day here.
Conclusion
When it comes to online marketing, a lot of companies today use all of these alternatives. In fact, companies are spending significantly on online marketing to make sure that they have a team that is adept when it comes to modern marketing techniques.
A lot of people need brands that they are able to trust, companies that they can understand and rely on. On the part of the companies, there is no better way to communicate with their audience today than using the unique online platforms that are available to them and tailoring these to meet the preferences of their clientele.
If your business has not embraced online marketing yet, you are missing out on so much.