---
In this review, I will be showing you the results I achieve by using The Football Loophole System from www.footballloophole.com. I will share my full profit, or loss, as I work through the system they claim will make you easy money with bookmakers and betting exchanges.
OVER ALL VERDICT – 5/10
---
What Is The Football Loophole System
---
This method is very simple, so this will be a very short review. When you buy this guide you are presented with a 19 page PDF file with instructions on how to select your bets and what to bet on. Very short and too the point, which I quite like, to be honest.
Betting systems do not need to be complicated. For the most part, 90% of them are "When this happens, bet X-amount".
The 19 page document very clearly explains what kind the qualifying criteria are for the bets you are going to place. I will not divulge what they are obviously because you need to buy the product but they are VERY easy to follow.
Is It Safe?
---
No betting system is ever 100% fool proof. This is VERY low risk, sure, but at the end of the day, it is down to you. If you have gambling issues and have a history of making compulsive bets then I would definitely not use this system because you need to follow strict instructions and staking amount.
You can use tipsters in order to cancel out any impulsive decision making.
However, you are only risking a very small percentage of you bank so if you do try this then you will not lose much, only as much as you are comfortable to lose.
Personally, I am using 2% stakes – by this I mean I am only betting 2% of my entire bank per bet. One bet at a time. This will give me ample opportunity to judge if this system works or not.
What I Don't Like
---
It takes forever to find bets that meet the qualifying needs to place the bet. This in itself is a very good thing because it means you are narrowing down your search but after you have looked the 25th game statistics and you still have not found a match which you can bet on, it starts to get a bit old.
However, you can't expect money for nothing, there has to be some effort put into this so I should not moan too much about it.
My Test Results
---
I will place 5 bets, to begin with, and post this review with my results. Then I will post my result for another 14 days straight whenever I find any matches which qualify to bet on.
Fingers crossed I produce a profit. 
---
BET 1
The first bet, which matches the qualifying criteria, is the Sevilla V Real Sociedad on  5th May 2017 – I bet 2% of my betting bank.

After one whole hour of searching through every league I could find – from Albania to Second Division teams in countries I have never even heard of – I could only find the one match.
I shall try again tomorrow and hopefully find some other matches.
The result for the Sevilla match was 1-1 so I lost the first bet.
Problems So Far
---
At the moment I am having a hard time finding matches which qualify with the criteria given by the Football Loop System.
I go to www.soccerway.com and start looking through all the different matches, as instructed, but it can take me up to 30 min plus before I find a match. My next bets are listed below.
Also, I am trying to find the second bet to place and I have been looking for an hour now and NOT found anything yet. This process is really starting to feel quite tedious.
Bet 2
---
Trying to find my second bet is proving difficult. I have looked through every single match today – 9th May 2017 – and I cannot find a single bet which qualifies.
Either there were too few goals scored in the previous games or the odds were too low. I have looked through every league from Austrian Regional League to the Vietnam Second Division but was unable to find anything.
I will try again tomorrow and forget the hour I wasted today looking these none existing bets.
Bet 2 – Continued
---
I finally found another game which matches the criteria for a qualifying bet. The game is Partizán Bardejov  Vs Žilina II in the Slovakian Second Division.
I have placed the bet and the result was 2-0, another loss.
Support
---
After the initial issues  have with trying to find the bets, I e-mailed the support team of Football Loophole to ask some questions about the product. The purpose of the question was (a) to see if they responded, and (b) to see how thorough and accurate their response was in relation to the results I was seeing with the method.
As you can see from the image below, my questions were quite simple. 
I have yet to receive a response, not impressed at all. Especially as this product is newly released and you would think the author would be very keen to build a good first impression with some favourable reviews.
---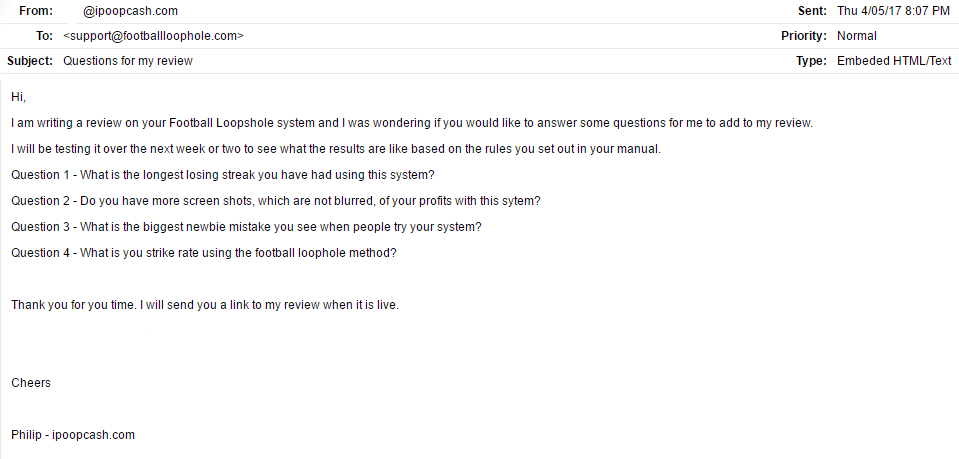 Bet 3 
---
At this point, after 2 losing bets, I have decided to try another 3 bets to bring the total to 5 bets. This is because it is proving to be too time consuming to find the bets in the first place.
Coupled with the non responsive "support" I do not intend to waste any more of my time.
In order to truly test a betting system you need to perform hundreds, or preferably, thousands of bets in order to see if the results return a profit.
However, if it is going to take me 1 hour + to find one single bet then this is not possible.
The 3rd bet I have placed is… nothing.
A Waste Of Time
---
After another hour wasted sifting through every football game I could find I, once again, could not find any football matches which were eligible to place bets on.
I found 6 bets which I thought were eligible, only to discover that the last rule – the odds amount – was too low for the bet to be valid.
All In All
---
Should you try www.footballloophole.com to make money from football betting? Honestly, who knows!
The process of finding the bets to place is so tedious I could not find any bets to place! The two bets which did qualify both lost so I cannot say anything about the profitability of this product because I did not perform enough bets to form an opinion.
Therefore I would say: Approach this product with caution and take things slow because I cannot vouch for its profitability or its credibility.
Perhaps the support team from Football Loophole will read this and clarify why they did not reply to my email and why it takes so long to find the bets – perhaps I made a mistake somewhere.
---
If you have used the Football Loop System and have found it to be profitable, or not, then please do let us all know in the comment box below!