Are you a wannabe DJ who is thinking about creating a YouTube channel? Are you hesitating because of what people might think or perhaps because you don't think you have what it takes?
Think again! You can do it! Anyone can!
If you are willing to learn, but most importantly, willing to take a chance then you should definitely share your music or talent with the world.
You do not need fancy equipment or expensive studios. All you need is your passion and willingness to learn a new way of life.
Once your music is online and you start receiving positive feedback, you will get hooked and your life will change for the better. You will wake up every morning happy, creating more beautiful music and spread positive vibes online.
Related Reading: Making A Living Online As a DJ
---
In this blog post I am going to interview a DJ called Mia Amare. She is currently living in Berlin, Germany and has started to become more popular online – especially on YouTube – which is where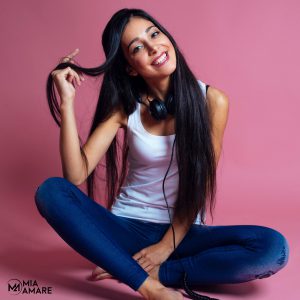 I first came across her fantastic mixes.
She is only 24 years of age and already she is gaining a large following on her social media accounts – Twitter, MixCloud, YouTube and Facebook where she spreads joy and dancing with her music. But how did it all start?
Let's hand it over to Mia Amare;
1.How long have you been DJ'ing for and why did you start?
"I am djing since 2015 and I really do not understand why I did not start before because I am a huge music fan, I was always listening to a lot of music. But actually, I never knew that girls can be DJs too so I started djing immediately after I saw a tv program about female DJs.
I grew up in small province city in Russia and I was always dreaming about big parties! Then I moved to a big city for University study and at age 19 started to go to clubs and I loved it, I love listening music and dancing with other people, love to smile while dancing and share positive vibes!
Now I am doing my own Radio Show called Happy House, doing many gigs this summer, working on my own tracks and can´t imagine my life without it."
2. As a DJ, where did you play before you joined social media and music sharing platforms online? Did you have regular gigs in clubs and bars?
"I had small gigs in Nizhni Novgorod, Russia and then I moved to Berlin, Germany so I knew no-one here and started with social media. We all know that Berlin is the capital city of Techno so for me it´s hard to find club here where my music style will be played.
When I was in Russia I doing parties at home and invite my friends so we had an amazing time and I was free to play music that I love! For me, it´s the most important."
3. What was the most challenging part about creating all the various accounts on platforms like YouTube, SoundCloud, etc.?
"The first platform where I started to upload my mixes was Mixcloud and my first ever mix get 14 plays 😀 That was kind of disappointing, but I continued to do mixes and upload them, and people started following me and write comments and support me. But in the beginning was everything really slowly.
Now I am making Video Mixes and uploading them to YouTube because personally, I prefer to see a DJ when I listen to mixes. I came to this idea because I was watching DJ Sounds Show and Mixmag in The Lab Shows. So back to the question, the most challenging in the beginning for me was that I had not many listeners and also I was really nervous about what people will say about my mixes.
Biggest challenge what I have on Instagram is that I don´t do many photos of myself (that´s untypical for a girl, I know) because when I am outside I like to enjoy the moment and not taking pictures. Sometimes I do but it´s still not enough! And of course, the biggest challenge is the copyright problems on Soundcloud and YouTube."
4. How quickly did you start to build an audience and get noticed?
"I think it was growing organically, important is that you keep your followers updated and always upload new mixes. I think that biggest attention I get after uploading my mixes to YouTube as Live Mixes.
I did a guest mix for Deep Mix Nation Youtube Channel – they have over 600k subscribers and also I get invited to make a Guest Mix to Pioneer DJ Radio for Undiscovered Talents Of The World and I am soooo proud of it! Many exciting things are to come, can´t talk about it now but I am super happy!
I have also my track released on SevenEves Records and working now on new productions so can´t wait to show you!"
5. Are there any negative aspects to sharing your music and how do you overcome them?
"I think that everything in life has positive side and negative side. Negative aspects… In the beginning, I get many commentaries like "go back to the kitchen" or "girl DJ – it is joke" or something like that… I just kept practising and I believe that now I am better than in the beginning, but I am still learning and for me is very important to grow and learn new things.
I am always listening to constructive criticism and learning from that but when it´s just some hating words – you have to ignore it. It was hurting me but now when I read some negative comments I am laughing so people´s bad words bringing me to laugh because I know that I am good enough in what I am doing and I am doing it with passion.
Actually now I get really not much of those bad comments anymore, 99% is support and love, and i am so thankful for that! I feel that i have many friends and we are kind of family in Happy House!"
6. If you could go back and give yourself one piece of advice at the beginning of your DJ'ing life, what would it be?
"I can give many bits of advice to myself, but thing is that you are learning by doing, and it will take time, nothing happening over night, and so longer you are doing something, so better you are. Well, maybe I would say: Believe in yourself and do it right now!
If you want to do something but you are not sure – start it right now! Yes you will start as a beginner and you will do mistakes, but only this way you can learn and get better. So don´t be scary of doing mistakes."
7. Have you had many bookings as a result of people hearing your music online?
"Yes, I get really many offers as a result of my Live Mixes on Youtube and I am very happy to play this summer at on a big festival in Croatia called Spring Break Island, also on Mykonos, Germany, Swiss.
Also, I am playing in Mallorca on Sunshine Live Party and many more… So it is gonna be very exciting summer for me! If you want more information, check out my Facebook page for dates.
So social media helps me reach house music lovers all over the world and it is so crazy and so exciting when I am getting messages from Canada, USA, Brazil, Australia and people are saying that they are enjoying my mixes."
8. What equipment do you use to make your YouTube videos?
"I am recording all my videos with iPhone 6s 😀 I am playing on Pioneer XDJ RX and recording that mix (there is an option to record on console, what is huge plus and DJs don´t have that option for example) and then bringing audio and video together in Final Cut Pro."
9. What would you say to a "newbie" DJ who is thinking about sharing their sets online but are not sure if they should because they are nervous or unsure?
"Start with Mixcloud first. Because it is a copyright free platform, and make really quality sets with your absolute favourite tracks. If you are good you will get listeners. Don´t try to play something that people want to hear. Play what you love. But it is completely normal that you are unsure – I was unsure too. How says Nike? Just do it."
---
I would like to say a big "THANK YOU!" to Mia for answering all these questions and I am very confident that this will help inspire people at home to take action and follow their dreams.
Final Note
The only thing that stops the majority of people from following their dreams if fear of rejection and "what people will think". This is such a shame because once you take the plunge and chase your aspirations you soon realize that these things do not matter.
The people who judge and make fun of people who try and turn their passion into something more, they are the ones who are afraid and pass judgement to make themselves feel better.
If you are sitting at home right now, with a collection of songs, DJ sets or tunes that you have written or produced – why not share them online? Take the plunge today and set up a social profile on some of these platforms;
The technical stuff – creating a YouTube channel, editing videos, advertising to make money etc, can all be learned as you go along but you have to take that first step before you can progress.
Start sharing your music today!