Yesterday I wrote an article on how to rank in Google by targeting low hanging fruit and while I was writing it I thought I would put my advice into practice.
I found a low hanging fruit keyword for this exact article "How To Rank In Google Fast" – as you can see in the image below – and in this post, I will use the exact structure I described to try and get myself onto page one of Google.
So let's stop wasting time and see how it goes!
The First Step
As mentioned in the previous article the first step is to ensure your keyword phrase is in the title of your article. However, don't forget to add a little something to make it more captivating. So I have added " A Case Study" at the end of this article because it is relevant and it tells you exactly what the article is about.
Google is incredibly smart at detecting natural and suitable material now and so if you write from your heart and keep to the point you will find your post will rank better and better!
At this point, in this post, I am not focused on where my keywords are or what my density is. I am simply writing an article which I feel is informative and gives value to the reader. Google will take care of the rest. Which brings me to the next step…
Keyword In Your URL
It is important that your keyword phrase is in your URL – which is the same as your article title. WordPress automatically makes your post title your URL which is handy.
Once you have posted and indexed a URL, do NOT change the title in the blog post. This will lead to a 404 error which is the topic of another blog post all together.
Content Organisation
You may have noticed my content is always separated into small paragraphs, and I use some bullet points and bold to highlight certain areas to make it easier to read. Why?
Well, it's simple. People have a short attention span when they surf so it is vital you create content which is easy to read and "scan-able." People skim through content because they are looking for certain points or a particular part of your website.
This is when having explicit separators and titles in place is vital so your readers can find what they want to read quickly. At the end of the day, it is YOU who make a website popular.  If the reader does not find the information they are looking for, then they will just click away, and you lose out on potential commissions and repeat readership.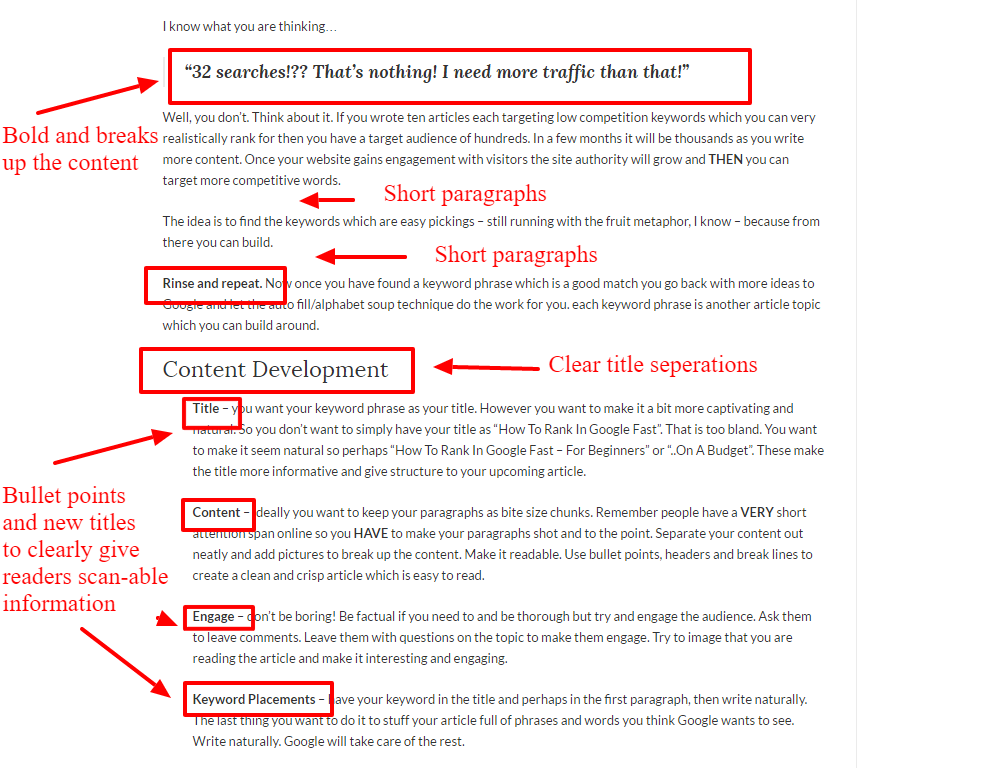 Engage With Your Audience
This point is imperative. You have to engage with your readers! Why? Because they make your website successful. The more people comment, share, like and relate to your content the more authority you will gain.
As a consequence, this increased authority will be reflected in your page rankings because Google will reconcile that people like your content and they want to read more.
Think about it… Google is a business just like any other, and they want to show relevant, spam-free and useful content for their users. Does this make sense?
Things to remember about engaging your audience;
ask question
leave your readers with an incentive to leave comments or share your content
use relevant images that will intrigue your visitors
Content, Content & Content!
The single most important thing you MUST do is write good content. Write natural and organic content without stuffing your article with keywords.
You can have a killer keyword phrase you want to target, a perfect structure and layout of your page. Your images may be funny, relevant to the subject at hand and also have a viral social appeal. However, if your content is littered with grammar mistakes and is written in a boring, unorganised and misleading way, then no one will want to read it.
At the end of the day, your visitors are coming to your website in search for information and help – regardless of your chosen niche. If they do not find relevant and helpful content, then Google will move your website down in the ranking and nudge your competitors above you. Why? 
This is because your competitors have provided better content which results in more page views, shares, likes and organic backlinks. Hence Google see's that website as an authority for that keyword.
Internal Linking
Ensure you are connecting your blog posts together with internal links. Why? Well, this is how Google knows how you content ties together and what your blog is about.
Internal links will also show Google that your visitors can navigate your content with ease.
When linking from one post to the next – with WordPress – you just have to highlight the text and click the "hyperlink" button on your toolbar. From there you select the post/page you want to link to. Be sure that the anchor text is relevant to your keyword for that article – but not an exact match!
You can see in the image above that my anchor text fitted naturally into the content of this article + acted as an organic internal link to another article i wrote about how to use keywords.
Other Points To Consider
Word Count – try and keep your word count above 1000 words. Roughly 2000 words is a happy medium. However, it is important to vary the length of your articles.
It is perfectly okay to write shorter articles because not all articles need to be long. As long as your write until you have "naturally" covered the subject at hand, then you will be fine.
Equally, if you have an article which is half finished at 2000 words, don't stop just because you have reaches 2000 words! Only stop when your article comes to a natural conclusion, and you feel happy that you have written a full and insightful article on your chosen subject.
Page Loading Speed – Both the main search engines (Google & Bing) use page loading speed to determine rankings. Use simple templates, reliable servers and a small amount of plug in's to reduce your loading speed.
Updating Frequently – It is critical to update your website with new blog posts at least twice per week. Google loves websites which are up-to-date and fresh, which kind of makes sense when you think about it. Your users will also appreciate getting regular updates, especially if they are checking back in search for new content.
Reply To You Comments – when someone leaves a comment on your blog posts, reply! Remember that all comments that are added to a blog post add to the SEO value. Google loves websites which have a lot of visits and interaction. The more your reply, the more people will comment because you are giving them your attention, time and love.
Will All These Tips Help Rank Quickly In Google?
These pointers will definitely give your articles and blog posts an upper hand when trying to rank within Google. Will they make it happen faster? Well, that all depends. But, seeing as you are targeting long tail – low competition – keywords then it will be sure to happen a lot swifter than a highly competitive one.
Not all articles will rank straight away, and some will even rank for completely different keywords than you were aiming for. The main point to take from this is this;
Follow the points above and write natural, interesting and in-depth content. Engage with your audience and let Google do the rest. This will help your rankings and in the long run, you will see the benefits from using low hanging fruits to target low competition keywords.