---
Have you heard of 'Slice The Pie'? Don't worry – not many people have right now, but you'll start hearing about it even more! Imagine listening to music and getting paid for it… sounds great, I know.
Maybe too good to be true. But in case you're asking "wait, is this a scam?" then I'm here to tell you that it's not – it's completely legit, which is why I wanted to write this honest Slice The Pie review.
If you are too impatient to read this review then you can jump right on the Slice The Pie website here.
What is Slice The Pie?
There are thousands of talented but unsigned musical artists who just want people to hear their music. So in 2007 SliceThePie launched as a place they could upload their tracks, get other people to listen to them and then leave a review of the track.
This helps the artist to survey their audience and improve their music – and the most popular artists can get assistance from Slice The Pie to get featured for spots on radio or even help get them in contact with recording companies.
It's ideal for artists, but the music lovers get benefits too – as a reviewer you get paid for each one that you leave – but if you introduce your friends to the site and they become a member as well, then you get a percentage of their paid review income too! But I'll explain more about that later.
How Do I Use SliceThePie?
It's very simple to become a reviewer and start earning – Firstly, head to their website. It only takes a minute, and once you have been sent the confirmation email and clicked the link you can start reviewing and earning money!
How do you leave your first review? Once you are logged into your account head straight for the Review page and look for a track that has a play button. Click 'Play' and the music will start – and you must listen to at least 90 seconds of the track before the review box will appear and you can write your honest thoughts. You will also be asked to select a 1-10 rating for the track; then you can click Submit, and you're done! Then just find another one and repeat for as many times as you like.
You can also make money by writing product reviews.
Remember – honesty is important for the integrity of the site and for helpful feedback to the musician. You will earn your own star rating based on how detailed and constructive your reviews are. And in fact, if you gain a reputation for writing quality reviews you will sometimes be given the opportunity to review bonus tracks that aren't available to everyone else. These will pay more than standard tracks, so it's always worthwhile.
The other important factor of SliceThePie is introducing your friends to the site – because if they sign up through your special link, you will actually earn 10% commission of THEIR payouts too! So you'll be earning more money for no extra work. Considering it's such a fun, easy and free way to make extra cash, it should be easy to get them to sign up.

What If Music Isn't An Interest Of Yours?
Well, Slice The Pie have been so successful they have launched Slice The Pie Catwalk for fashion lovers! They host 'events' and fashion trials for new designers, and you can leave a review for them just like you do for bands and musicians. They will keep you informed of these events by email so you'll never miss out.
How Do They Pay Their Reviewers?
All reviewers are paid in US Dollars through PayPal, one of the most trusted payment processors in the world. As soon as you have at least $10 in your account it can be withdrawn at any time.
The amount you are paid will be based on a ranking system, and whether or not it was a bonus track.
Here's a hint – you get paid more for detailed and high-quality reviews, so it's good to try to write longer reviews and be as constructive as you can be by pointing out both positives and negatives to the track.
In general, they payout is around 15 cents per review. This seems small, but you're listening to only 90 seconds of music and then writing a review – it's very easy to do a few of these back-to-back and earn, say $2. Then once you invite your friends you can earn 10% of their payouts… it can quickly add up to a nice source of extra pocket money at the end of the month. It could be covering your cable bill, or maybe a nice dinner every month – sounds pretty great when you put it like that!
And if you're still worried that this is a scam, check out their homepage – you can see that they have paid out more than 3 million dollars (and maybe more by the time you find this article!).
Wouldn't you like some of that money to go to you?
What Are The Qualities Of A Good Review?
Be honest – don't always say it's the best thing you've ever heard. Be constructive and take the time to add detail about what you did and didn't like. Be as specific as possible. You don't need to use fancy words or be a fantastic writer – you will naturally improve as you write more reviews.
With a little guidance and a little practice, you can be earning top dollar on SliceThePie too! Here are the top tips for writing great reviews: Don't just say that the track is 'nice' or the singer is 'great'. It's too generic. Try to be more descriptive with your words. You could say that it was 'an emotionally-driven track that used the singer's deep vocals to add a vulnerability to the sound'.
Feel free to say what you didn't like about the track, but use words that helpful. Don't just say 'I didn't like that guitar solo' – you could say 'the second guitar solo felt too overpowering and out of place when compared to the tone of the rest of the song'.
Review Example;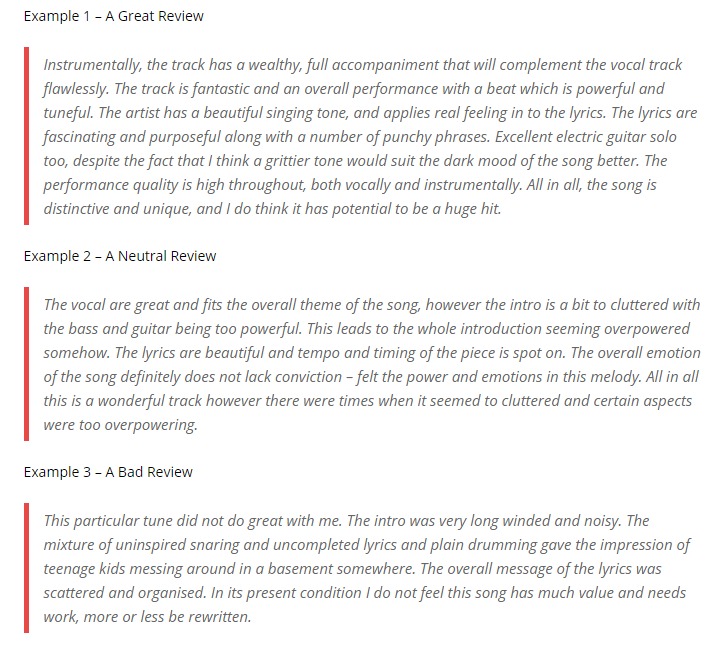 See the difference? Try to aim for 100 words with your review. Stuck for what to talk about? You can comment on things like the singer's vocal performance, use of instruments, any music solos, beat and pace of the song, choice of lyrics, emotional tone as well as your overall impression.
Other factors to consider;
Personally, I find using the Thesaurus really helps to find unusual and wonderful words to describe the music in question.
The thesaurus can really give you an advantage because if you type in a word like "Overpowering", for example then you get others words like;
irresistible
powerful
uncontrollable
intense
overwhelming
Suddenly you got another 5 words you can use in order to change up your reviews to make it more appealing for your musical counterpart. Not only that but it will show the Slice The Pie staff that you stand out from the rest of the reviewers and you will get paid more for your reviews.
Verdict
SliceThePie is really a fantastic way to earn money while doing something you were probably going to do anyway – listen to music! It's also great to think that you are helping musicians to improve their tracks and get the opportunity for commercial success. And imagine how cool it will be when you hear a song that you reviewed being played on the radio!
Will you earn a living from it, probably not – but you will get enough money for a few beers here and there that's for sure!