---
Yesterday I joined a brand new service called Get A New Rich Life. I paid my $38 and headed into the membership area to see what ClickBank wonders were waiting for me this time. Will this service be worth the money?
Or will this review once more reveal that GetaNewRichLife.com is just another scammy/low-quality product sent out to trick newbie affiliates to part with their money?
These were my findings;
Product Name – Get a New Rich Life
Owner – Nathan Davis
Price – $38
My Rating – It is ok. A work in progress. 5/10
Website – http://www.getanewrichlife.com/ 
Summary Of Get A New Rich Life

Get A New Rich Life is a ClickBank product written by a guy called Nathan Davis.
This service shows you how to build an email list by using landing pages and lead magnets to collect email addresses from visitors.
The idea being that you use free and paid traffic sources to generate traffic to you lead magnets. These visitors then fill in opt-in forms which collect email addresses for future email marketing.
You then create convincing and valuable sales emails which you send out to these new subscribers in the hope of generating sales.
This is obviously just a summary, there is a lot more to it than that. 
Within the member's area, there are currently 7 training modules which you can see in the image to the right here. Each module should have a tutorial video and a PDF file to read through.
Below is an image of the first lesson with the video and the PDF download.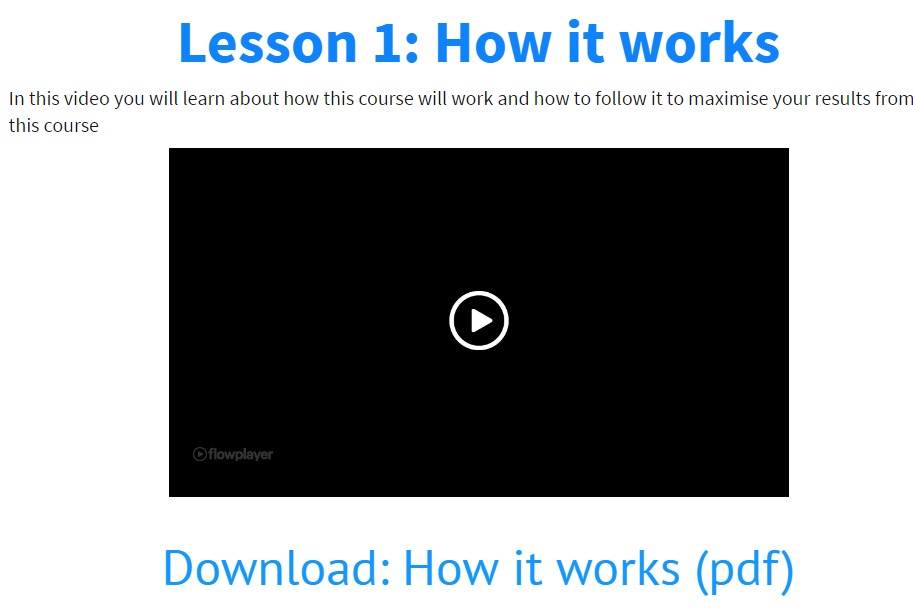 The information within these modules is well presented and easy enough to understand.
I would like to point out at this point that it is clear to me that this product looks like a one man show – Nathan – and it is still very new to ClickBank at the time of writing this review. It is obvious that he is still tinkering with the design of the website as it changed multiple times when I was reviewing this service.
The design of the website is clearly still in a work in progress, and there are a few spelling mistakes here and there. However, I can tell that this guy is legitimate with his intentions.
The information Nathan provides on the traffic sources and the whole process of email marketing and collecting leads is fundamentally sound, and the advice is solid.
Is The Training Any Good?
The training is fundamentally sound, and the traffic sources and links he provides are good. I will not disclose these links and sources here as I do not want to spoil things for Nathan.
The lessons cover everything you need to know about creating lead magnets, copywriting and email subscriber management.
There is a lot of detail about email marketing and how to make sales with the email addresses you accumulate after sending traffic to your opt-in pages.
Not all the training modules have videos within them which is a shame because the PDFs provided, although informative, are quite tiresome to read.
It can be quite difficult to absorb a lot of information like this, especially if you are a beginner, and such long PDFs may not be the best media source to convey these kinds of lessons.
I also noticed that there are several videos missing such as the one below in the "Marketing Plan" lesson;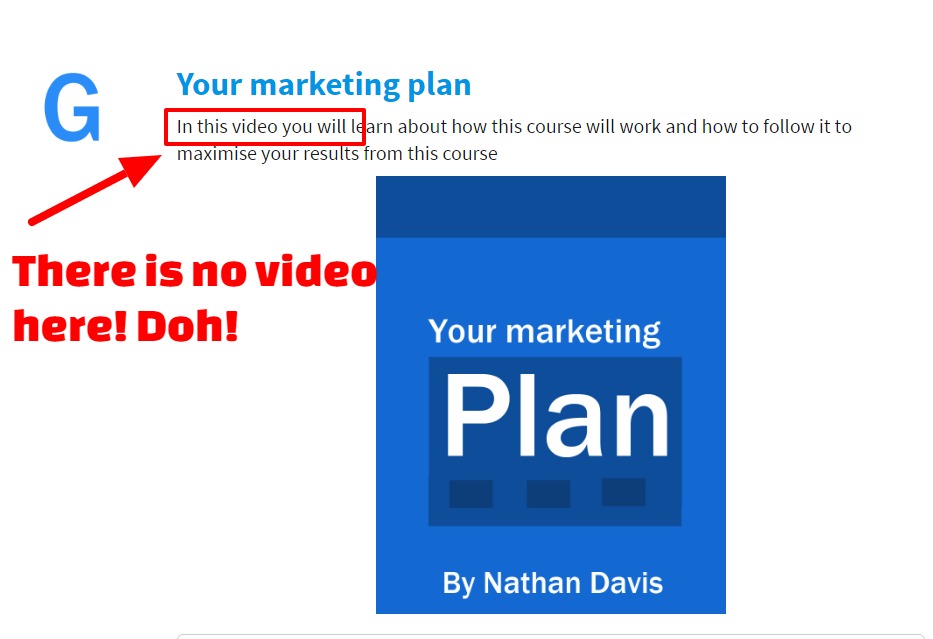 Overall, I would say the training is ok but fragmented.
Anyone who buys Get A New Rich Life and reads through will definitely learn some useful tips and tricks, but the missing tutorials and the odd spelling mistake does make one lose confidence.
The only reason I am not harsher is that I emailed Nathan about some missing PDF files on a few of the lessons and to his credit, he replied right away and fixed it.
What I Liked About Get A New Rich Life
The price is low and cheerful for some useful information and tips.
I can see that this is an ongoing project for Nathan and the fact he answered my email shows he actually cares.
The training is solid despite being a little bit clunky and tiresome to get through.
I can see this has great potential to become a solid and reliable product.
What I Did Not Like About Get A New Rich Life
The design of the membership area does not give a lot of confidence. It looks a little cheap and homemade.
There are a lot of spelling mistakes and missing training videos and PDFs which is frustrating when you have paid for membership – however, I understand that this website is still "under construction."
I get the feeling this service was perhaps prematurely launched due to the missing elements to the training modules.
Everytime you go back to the homepage the greetings video auto plays – that is annoying!
Is Get A New Rich Life A Scam?
Definitely not. This is a legitimate service, and once all the wrinkles have been ironed out I am sure this will be a very valuable service to try out.
My Final Opinion
I can see that GetaNewRichLife.com is a work in progress on the author's side. So I am not going to be too harsh in this review.
Suffice to say that once the tutorials have been updated with the proper videos and all the spelling mistakes are sorted then this will be a useful service for beginner email marketers. I would suggest you wait a month or two more before trying it, though, to give Nathan a bit of time to iron out the wrinkles.
This last point is especially important if you are a newbie affiliate marketer because you may not get a complete training module.
If you have any personal experience with Get A New Rich Life then please do leave a message below.