---
I wanted to find out if outsourcing from cheap websites like iWriter.com was worthwhile. So, I ordered an article to see how tricky the process was and to check the quality of the content being written for me. Now I will share with you the results and let you know if iWriter does work.
Quick Review – My overall opinion is this: iWriter does work very well but use care and be thorough when ordering content. Good luck!
Overview of iWriter.com
iWriter is one of the many article writing services that enable clients (called requesters on the platform) to place requests for articles, press releases, Kindle books, eBooks, and other types of content. It works much in the same way as Textbroker and Elance but is less complicated and often cheaper than most alternatives.
When you place a request for an article on iWriter, the article is immediately posted and worked on by a writer instead of waiting around for writers to bid on your project.
iWriter boasts of one of the lowest rates for articles of the same quality among competitors. You can actually get a "decent" 500-word article for about $3, though prices can go as low as $1.25 for a 150-word article. These can be delivered within 2 to 5 hours, depending on the length of the article. These low rates, coupled with fast turnaround times are among iWriter's main selling points.
However, at that low a price I would not expect the best quality – just a little warning there!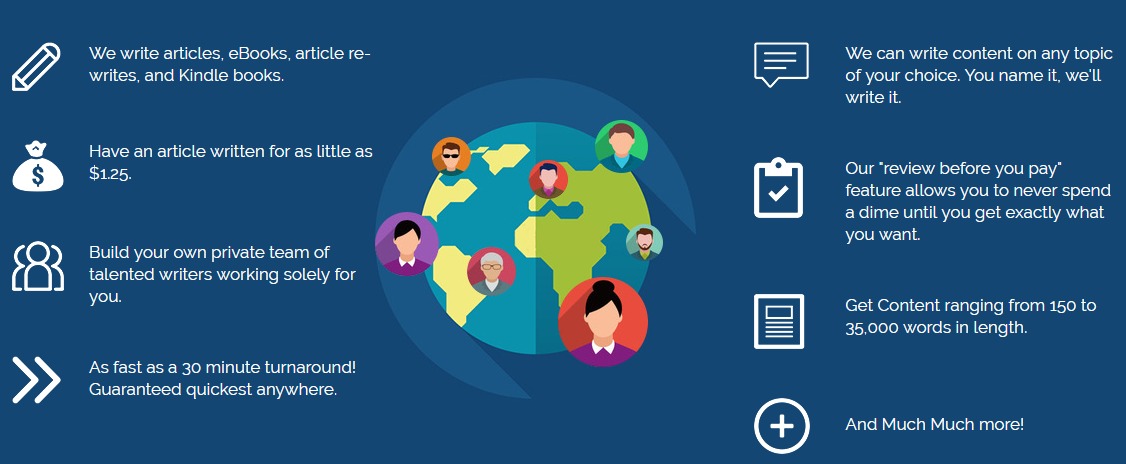 The Quality Of The Content
iWriter works on a rating system that determines the cost and quality level of the articles you request. Quality levels are usually tailored to fit your budget, with lower quality articles starting at $1.25 and going up to $11.50 for a high-quality article. You can select from one of four quality levels, namely Basic, Premium, Elite, and Elite Plus when placing your request.
When you submit requests at the Basic level, your request will be visible to all the writers on the platform, including those with poor ratings. This often increases the chances of receiving poorly written content, either from beginners or writers who regularly receive poor ratings.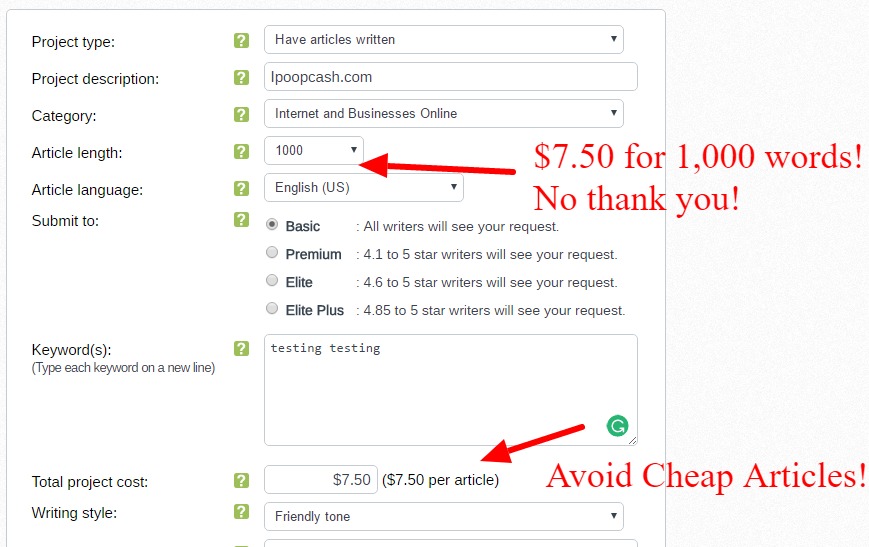 Premium level requests are usually open to writers with a 4.1-star rating and above out of a possible 5. Many good writers on the platform write at this level, producing decent articles at great prices.
Requests placed at the Elite level are visible to writers with a minimum 4.6-star rating. The articles are a bit pricier but usually guarantee you of top quality content from your writer. Writers at this level are also more likely to understand the principles of SEO and other content marketing techniques and therefore should be your first stop if you want your articles to be search engine friendly.
The Elite Plus level consists of writers who are at the top of their game, usually professionals and seasoned writers rated above 4.85. Articles here are understandably the most expensive, with a 150-word article going for $11.50. Writers here understand everything from link-building to advanced SEO and usually form an integral part of an online marketing campaign if you have one.
To ensure quality and originality, iWriter filters all submitted articles through Copyscape at no extra cost before they are delivered to you. Articles that fail the Copyscape test cannot be submitted by the writer. The writer has to pay for additional Copyscape checks until the article is certified as original, which is a big plus for the client.
Articles submitted must also be approved by the requester before the writer can be credited for the work. There are no internal checks for grammar, so you are going to have to use external applications such as Grammarly to check for grammatical errors. Otherwise, you can approve the article as long as it reads well and fulfills your requirements. You can download your article normally or with spin tags if you are a big fan of article spinning.
You can also request for a rewrite if some of your requirements aren't fulfilled or reject it altogether and request a refund if your requirements were completely ignored.
Ensuring You Get Quality Articles
The most important thing, when ordering articles from iWriter is to give as much detail as possible in the specification section.

The more details you give, the better the article and less chance of a miscommunication. Also, this will weed out any potential time wasters who take any job and simply spin other articles to create fluff for you.
In the example, above I have included the subheadings I want and the word count. This enables me to write the opening paragraph and the ending paragraph before I get the article, enabling me to be ready and waiting when the finished product arrives.
There will always be some editing to do but at least this way I already know what the subheadings are, and I get a headstart on my article, enabling me to write three or four articles at the same time.
What I Like About It
iWriter wins hearts primarily because of its low prices, which is also one of the main things I like about the site – although you need to be careful! Most competitors often have prices for low-quality articles starting at $3, others even going as high as $5 or $6 for a single article. And the good thing with iWriter is that you can get decent articles at the Premium level or even excellent pieces if you are lucky.
iWriter also allows you to reject articles if you aren't satisfied with the quality, which I think is fair. Some other sites will force you to accept an article or some form of arbitration even if the quality is unacceptable.
You can also build a list of favorite writers after getting quality articles from one or more writers. This helps you save time by ensuring your articles only go to writers who you are assured will deliver quality articles for you.
Their customer service is also quite responsive, often responding to queries within an hour on average. They also recently launched an API to integrate the articles from your iWriter account to your blog or website, which is a big plus for convenience.
What I Don't like About It
Because of the low prices, it can sometimes be hard to find quality articles on iWriter. It may take tons of rejections and revisions to get the perfect group of writers, but when you do find a good team, getting quality articles becomes much easier. You may get good articles by paying a little extra for better quality and a more experienced group of writers.
Before you can place a request on iWriter, you need to fund your account. iWriter only provides PayPal as the sole payment method, something I find restrictive for those of us who may opt to use other payment methods.
While iWriter gives you the freedom to reject articles, too many rejections will negatively affect your ratings (yes, even requesters are rated). A high rejection rate will almost certainly turn you into a pariah on the platform, with many writers ignoring your article requests out of fear.
Is iWriter Worth The Cost?
If you are looking for high-quality articles at an affordable rate, iWriter can be worth it. I want to emphasise here that you need to pay for the Elite and Elite Plus in order to get great content. If you try the cheaper options then the results will vary drastically!
iWriter boasts of a huge database of writers who are more than willing to work on your projects, irrespective of the level of difficulty. All you need to do is invest a little bit of your time and effort to look for a good team of writers, especially if you have long-term projects.
With time, it will be easier to post projects and receive articles from writers who understand your style and requirements. This will go a long way in reducing the stress and headaches associated with getting quality content posted on your blog or website.
Freebies such as free Copyscape checks, unlimited revisions, and free versions of articles with spin tags also make the platform worth the few bucks you spend on content.
As a regular requester on iWriter, I often receive quality articles at Elite level, save for a few instances where I had to request revisions. Still, iWriter ranks high in my books compared to other outsourcing platforms and is worth checking out if you want quality content at affordable prices.
Does iWriter Work?
Well, yes – and no. I think it depends on how much you pay and the way you approach the application process. If you are sloppy and give a very broad job description, then you will be given a piece of content which may not be relevant for your niche – despite asking for a certain keyword to be used.
However, if you give the writer all the subheadings to use in the article, along with specific instruction of what you want such as – tone, niche ideas, and which area to focus on – then this could be a useful source of extra articles.
95% of the time in, when outsourcing, you get what you pay for. If you want to pay $5 for a 1,000-word article you have to accept, you will get a very poor quality article. Simple as that.
My overall opinion is this: iWriter does work very well but use care and be thorough when ordering content. Good luck!